Murphy Bed - Twin
Description
Offered in Twin, Full, Queen
Are you seeking a transformative solution for maximizing the functionality of your living space? Look no further than our custom Murphy Wall Bed, a testament to craftsmanship, innovation, and personal style. Based in Montana (and voted Best Furniture Store in Montana 2023) we understand the value of efficient and versatile furniture, and that's precisely what our Murphy bed offers.
Additional Option:
Overhead lights
Reading lamps
Collapsible headboard
Decorative paneling
Storage options
Link to Storage options:

https://blacktimberfurniture.com/product-91

Closed: 52 7/16" W x 87 3/16" H x 19 5/8" D

Open: 55 7/16" W x 87 3/16" H x 91 7/16" D



Depth
19 5/8" - 91 7/16" "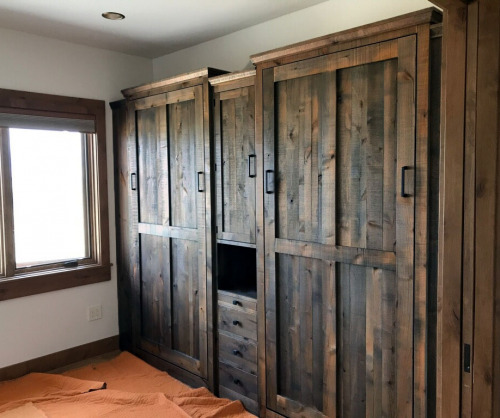 Contact us if you are interested in custom furniture in a style that doesn't match what you see here.
Contact Us