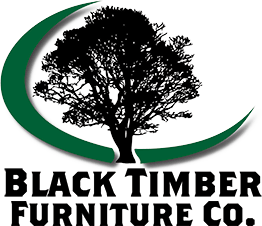 Custom Wood Furniture
Black Timber Furniture Co. — furniture for your style.
To locally craft furniture that is functional, artistic, and timeless.
What We Do
Sketch
Black Timber Furniture Co. has been building custom, solid wood, heirloom quality furniture since 2010. Our showroom provides ready-made items for purchase or inspiration and we work with our clients to conceptualize, design and build custom pieces that will bring both functionality and artisan to your home. By combining classic woodworker's techniques with modern machinery, we can produce the highest-quality work that you'll be able to pass onto your grandchildren.
All of our furniture is made from solid hardwoods, with solid wood joints, giving them a seamless beauty, and free of many of the toxins often found in particle board and other artificial woods. We work with cherry, walnut, oak and alder and a variety of different stains. We also partner with local providers of fabric, leather, metal work, glass and even antlers to give your piece that finishing touch.
Yes — we deliver! Contact us for in-town delivery rates or out-of-state shipping. We proudly ship within the US and Canada.
Sketch
Our Team
Custom install
Traditional American values that translate into superior craftsmanship.

Black Timber Furniture Co. is owned and operated by veteran and experienced carpenter, Todd Fullerton. Our dedicated team of men and women have a combined 200 years of woodworking experience, and as United States Veterans, we understand that values and quality aren't something that you can compromise on. A dedication to the details and steadfast adherence to a strict regimen of quality allow us to craft furniture that will truly stand the test of time. We consider ourself more than carpenters — beyond the functional, we work with the innate spirit of the wood to craft unique specimens that will not only bring light and wonder into your living space, but will stand testament to your choice for generations as you pass them on to your descendants.

We are here to turn your vision into a beautiful custom feature for your home. We welcome you to visit our showroom in Four Corners.

You can also see many of our custom pieces on our
Instagram
page.
Custom install
Contact us to get started on a custom project.
Contact Us